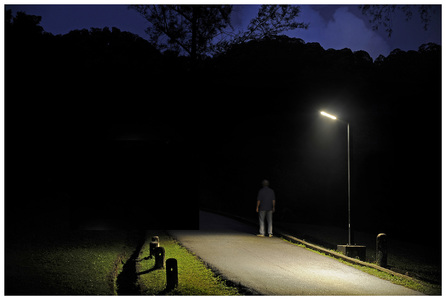 #1
2019
his footsteps sounded intermittently on the light gilded pathway, while through the continuous high pitched electronic fizz of bush crickets, beyond that, faintly, he could just hear the steady rush of running water.

this place was a long way from home, it had taken him a life time to get here, this place, surrounded by trees.

beyond the lamplight he faced a veil of darkness, dark damp air mingling with dark trees and dark hills, and beyond that, a faintly purple sky.

he'd come here to think about what to do, where to go next. he was looking for something else. he didn't know what exactly, maybe it lay beyond the banana palms.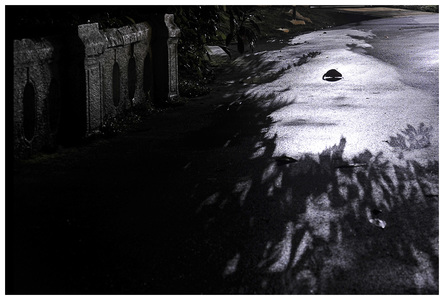 # 2
2019
before he stepped into the darkness, he glanced up at the lamp. that which the moths could not resist.

enticed they were from the shadows, spiraling madly into a blaze of photons. the seduction zone. blinded by the light, fried by the heat.

he followed the gloomy path up the hill, towards the black hills. crossed a stone bridge and a gurgling stream, to stand before specimens he mostly could not name. Alas to his right, leafy banana palms, resplendent they were in the dimness.

beyond them, up high in the sky, was a giant silvery disk behind a veil of patchy cloud. he could just make out the man in the moon face.

around him stood goliaths. noble giants. centuries old. some 70 meters or more, their rough trunks wider than a car. he stood in awe. surrounded he was by such wise old specimens. what had they seen he asked himself? less than the man in the moon came the reply.